Maid Service in Caldwell, ID
Fabulously Clean provides high-quality cleaning services to every Caldwell homeowner. Our services are customizable depending on our clients' specific needs, and we offer several packages for any occasion. Essential services include our deep cleaning and high-touch disinfecting, but you can also book more thorough services like top-to-bottom deluxe cleanings.
Discover Caldwell, ID Neighborhood
Caldwell is part of the Boise metropolitan area with a long tradition of agriculture. Back in the Civil War, settlers arrived after discovering gold in the Idaho mountains; however, many stayed along the Boise River to establish their businesses.
Railroads and waterways helped the city grow, and with the coming of the twentieth century, it became a center of agriculture, commerce, and education. In 2009 the Indian Creek revitalization project took over, adding walkways and bridges to push Caldwell even further as a tourist stop.
Every homeowner in Boise, Idaho, deserves a clean and stress-free home. Fabulously Clean is a professional cleaning company specializing in residential services, providing a wide range of packages for all kinds of needs. Essential services like general deep cleaning are our bread and butter; however, we also offer high-touch disinfecting services, recurring cleanings, top-to-bottom deluxe cleaning, and move-in/out cleanings.
Spend time living in Caldwell, ID
Caldwell is for the whole family! This friendly town will welcome you from the moment you step into the Indian Creek Plaza, with a vast selection of restaurants, independent businesses, and even a farmer's market.
Agricultural tourism during spring is also a highlight at Caldwell, with places like Lakeview Fruit, which grows and sells plums, nectarines, apples, and more. Once in touch with nature, take this chance to walk along the Babby Farms, where your kids can see cute baby goats and sheep, or Little Cow Mountain Farm for a 90-minute tour of Angus Cattle.
Did you visit during the off-season? If you want a thoughtful experience, the Orma J. Smith Museum of Natural History has plenty of specimens for you to appreciate—some collections are from the Mexican Baja and Native American Ethnography!
Caldwell, ID House Cleaning Done Right
We know letting someone else clean your home is a big deal; that's why we make sure our cleaning staff is as reliable and professional as possible. We perform thorough background checks and training for every new employee, not to mention we consistently review their performance. Besides, we offer a 100% satisfaction guarantee, meaning that if you're not happy with the results, we go back and make it right!
Why Choose Fabulously Clean House Cleaning?
Besides providing an excellent cleaning service to our clients, we also love to give back to the community. We hold food drives three times a year, and we are partnered with Cleaning For A Reason organization.

We give back to the community
Three times a year, we hold food drives during March, June, and September. We match the number of cans/items received (up to 5 cans per household) and give it The Interfaith Sanctuary.

Cleaning for a Reason Partnership
We have partnered with Cleaning for a Reason to provide FREE house cleaning service to women undergoing cancer treatment in the Treasure Valley Area.

We have high expectations
We provide detailed training to our staff so that they can meet the client and company standard of high quality, reliability, and great attitude.

Customized cleaning
Each home is different and a cookie cutter approach just won't work. We create the cleaning you need and that can fit most budgets.

Reliable and consistently thorough
The biggest thing I hear is they started out great but slowly started missing things. That is why we send out the Quality Surveys to each client.

100% Happiness Guarantee
Have you ever been satisfied with the outcome but not happy? We want to make sure that you are happy with every aspect of our service. If you are not completely HAPPY with the cleaning you receive, we will come back and re-clean it by the end of the day for free.
Our goal is to be proud of every home we clean. Check out some of our best work here.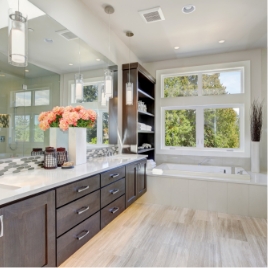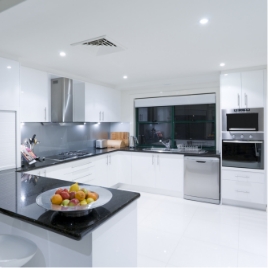 We always strive to obtain five-star reviews from our clients. We are proud of our incredible staff that always gives the best efforts.
Dec 30, 2022
Annaleece does a great job! I have 2 boys and 2 big dogs and I feel like coming home after she cleans the house is singing it's praises. Think sound of music style. I am a very happy client! In particular I think she has noticed that the kitchen and bathrooms are my least favorite to clean, she makes them sparkle. I appreciate her!
Dec 30, 2022
Monica is fantastic. We're glad she is assigned to our home. Very thorough and professional.
Dec 30, 2022
The house was well cleaned. It looked as if there was good attention to detail. I didn't notice anything unusual after cleaning. Great Job. Much appreciated! Many thanks, Ormond
Cleaning houses for a living will definitely teach you many cleaning hacks and tricks. We want to share with you some helpful cleaning tips to make your life easier.
If you think about it, cleaning shower door tracks isn't really that hard. However, constantly skipping their maintenance contributes to mold, limescale, and other types […]
Read More