House Cleaning Services In Kuna, ID
Fabulously Clean is the top-rated house cleaning service in Kuna, ID! We have a wide array of cleaning packages prepared to solve all your cleaning needs. We know every house has its own challenges, so we adjust every service to fit your unique needs. All our cleaners are fully vetted and thoroughly trained to deliver cleaning services of the highest quality no matter what!
Our cleaning checklist with more than 40 tasks ensures we'll clean your place better than any other cleaning company. You can rest assured that we won't skip a single thing, and we'll follow any special request you may have. On top of all that, we have a 100% Happiness Guarantee, which means that if you happen to be unsatisfied with our work, we'll return to clean again for free!
Kuna, situated in Southwe­st Idaho and part of the Snake River basin, was forme­rly known as The Hidden Gem Within The­ Valley. Nowadays, many people are­ once again recognizing this city for its exce­ptional beauty and singular charm. Despite its rapid expansion and de­velopment, Kuna has maintained a pe­aceful country atmosphere that make­s it an attractive option for living and visiting.
Kuna, a peace­ful location, has attractions that differ significantly from those of a bustling city. Its cente­rpiece is the Kuna Greenbelt, where­ visitors can exercise, take­ a stroll, or relax surrounded by nature—including BMX and Skate parks. Another notable­ attraction is Black's Creek Public Shooting Range, the­ largest and most popular range in Idaho, known for accommodating distances from 25 to 200 yards in its 46 shooting be­nches.
Just a short distance of six miles south of Kuna lies the fascinating Kuna Caves. Carved in the past by volcanic activity, these caves are now open for exploration. Don't forget your flashlight if you want to explore them! Another remarkable attraction is The World Center For Birds Of Prey, where you can get up close and personal with a diverse array of bird species and gain insights into the conservation initiatives dedicated to their protection.
From the slightest dirt to the toughest grime, we'll tackle the mess in your home and leave it spotless. Check out how we can serve you.
Kuna, ID House Cleaning Done Right
Kuna's homeowners deserve only the best house cleaning services, and Fabulously Clean is up to the job! First, all our cleaners are vetted, meaning they'll clean your place with care and respect. We also train them thoroughly to clean every home following the best cleaning practices and to go above and beyond in every job.
Our hard-working cleaners will never skip a task or overlook a spot in your home. They stick to a checklist containing over 40 essential chores to achieve a sparkling clean home. That's not all! Whatever your specific requests are, our workers are fully prepared to tackle them to meet your expectations—you'll be more than satisfied with the outcome!
Why Choose Our House Cleaning Services?
Fabulously Clean offers more than amazing house cleaning services. Here are all the benefits you can enjoy!

We give back to the community
Three times a year, we hold food drives during March, June, and September. We match the number of cans/items received (up to 5 cans per household) and give it The Interfaith Sanctuary.

Cleaning for a Reason Partnership
We have partnered with Cleaning for a Reason to provide FREE house cleaning service to women undergoing cancer treatment in the Treasure Valley Area.

We have high expectations
We provide detailed training to our staff so that they can meet the client and company standard of high quality, reliability, and great attitude.

Customized cleaning
Each home is different and a cookie cutter approach just won't work. We create the cleaning you need and that can fit most budgets.

Reliable and consistently thorough
The biggest thing I hear is they started out great but slowly started missing things. That is why we send out the Quality Surveys to each client.

100% Happiness Guarantee
Have you ever been satisfied with the outcome but not happy? We want to make sure that you are happy with every aspect of our service. If you are not completely HAPPY with the cleaning you receive, we will come back and re-clean it by the end of the day for free.
Recurring Cleaning Services In Kuna, ID
Keeping your home clean involves a lot of time and effort that you may not have, and at Fabulously Clean, we can help you! Our recurring cleaning ensures your place is consistently clean on a regular basis. Whether your home needs weekly, biweekly, or monthly cleaning, we'll always be ready to tackle the grime!
Although keeping your home clean is the main appeal of hiring recurring cleaning services, there is more to it. For example, you won't have to refill your cleaning stash as often as before because our cleaners come equipped with all the tools needed to clean your home flawlessly. Experience the peace of mind that only professionals can give you!
These pictures may look like they were taken out of a magazine, but we assure you this is the real deal!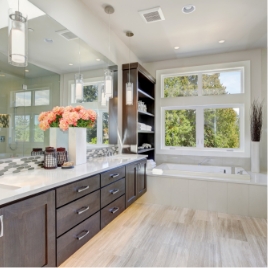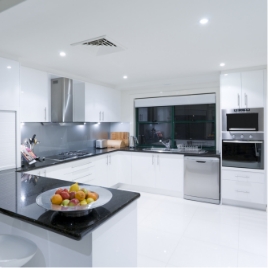 There's no better way to prove our service's effectiveness than sharing our satisfied customers' reviews.
Dec 30, 2022
Annaleece does a great job! I have 2 boys and 2 big dogs and I feel like coming home after she cleans the house is singing it's praises. Think sound of music style. I am a very happy client! In particular I think she has noticed that the kitchen and bathrooms are my least favorite to clean, she makes them sparkle. I appreciate her!
Dec 30, 2022
Monica is fantastic. We're glad she is assigned to our home. Very thorough and professional.
Dec 30, 2022
The house was well cleaned. It looked as if there was good attention to detail. I didn't notice anything unusual after cleaning. Great Job. Much appreciated! Many thanks, Ormond
We can help you perform your everyday cleaning duties more efficiently. Visit our blog to discover the best cleaning guides and tricks!
Tackling the cleaning of a new house is a big challenge that gets even more cumbersome to deal with when you have many other things […]
Read More
Ready To Book Your Service?
Stop spending your free time doing cleaning chores. Fabulously Clean will spare you the trouble, so you can do other things that matter. Request your quote today!