House Cleaning Services In Eagle, ID
Forget about your cleaning chores because Fabulously Clean is here to tackle them! Not all homeowners or homes have the same needs, so we listen and adjust our packages based on them. Letting a stranger in your home can be a big deal, so we thoroughly vet all our cleaners for your peace of mind!
Expect top-notch quality results every time we visit you! By following a cleaning checklist covering over 40 tasks, we ensure your home is spotless without missing a spot. Besides, you can add extra tasks! Every team member is highly trained to go above and beyond and leave your place squeaky clean. We are so sure you'll love our work that if you aren't happy, we will return to clean again for free!
Things To Do In Eagle, ID
Eagle was founded in the late 1800s gold rush after farmer Truman C. Caitlin purchased 160 acres of land and dug trenches to irrigate the new settlement. Many of those canals form part of the landscape up to this day. With a population boost of over 200% in the last decade and the recent developments in the city, Eagle is now an excellent place for new opportunities while still being a peaceful and lovable city.
Although small, Eagle offers a delightful array of activities that showcase its natural beauty and community spirit. For a cultural experience, visit the Eagle Historical Museum, which showcases the town's heritage through fascinating exhibits and artifacts. Also, you can find the 3 Horse Ranch Vineyard north of the city. Known for its exceptional wines, breathtaking views, and welcoming hospitality, it offers a serene escape for wine enthusiasts seeking a memorable tasting experience.
Do you seek heart-racing adventures? Get to the Firebird Raceway, a thrilling motorsport venue offering over 50 high-speed drag races throughout its season. Another interesting spot is the 200-acre Ada/Eagle Sports Complex, with 27 exciting biking trails for novice and experienced riders; it also has a skate park, baseball courts, and an inline hockey rink, making it a popular destination for all the people in Eagle.
We are not overstating when we say we are prepared to cover all your cleaning needs. Besides offering a wide array of services, we let you customize them as it better suits you!
Eagle, ID House Cleaning Done Right
Don't settle for less than the best! Fabulously Clean delivers only high-quality cleaning. Our cleaners stand out from the rest because they are fully vetted, so you know they'll clean your home with care and respect. They're also thoroughly trained, so they'll tackle every chore professionally. However, there's more! Our certified professionals will thoroughly clean your bathroom, bedroom, kitchen, and living room, following an extensive checklist created to cover every essential spot.
Our cleaning checklist covering more than 40 tasks ensures we leave your place spotless. However, our cleaners go even further to satisfy you. If you have any special requests, let us know! Our workers will strive to fulfill them the best they can so we meet (even exceed) your standards and end up happy with the results.
Why Choose Our House Cleaning Services?
Incredible house cleaning services are only just the tip of the iceberg. We love to pamper our clients with more benefits!

We give back to the community
Three times a year, we hold food drives during March, June, and September. We match the number of cans/items received (up to 5 cans per household) and give it The Interfaith Sanctuary.

Cleaning for a Reason Partnership
We have partnered with Cleaning for a Reason to provide FREE house cleaning service to women undergoing cancer treatment in the Treasure Valley Area.

We have high expectations
We provide detailed training to our staff so that they can meet the client and company standard of high quality, reliability, and great attitude.
We will return your calls
We believe open communication is the key to our success.

Consistent Quality Checks
We send out quality surveys to every client after every cleaning and review the responses daily.
Our staff are thoroughly vetted
We do background checks, drug testing, and employment verification.

Customized cleaning
Each home is different and a cookie cutter approach just won't work. We create the cleaning you need and that can fit most budgets.

Reliable and consistently thorough
The biggest thing I hear is they started out great but slowly started missing things. That is why we send out the Quality Surveys to each client.

100% Happiness Guarantee
Have you ever been satisfied with the outcome but not happy? We want to make sure that you are happy with every aspect of our service. If you are not completely HAPPY with the cleaning you receive, we will come back and re-clean it by the end of the day for free.
Recurring Cleaning Services In Eagle, ID
What a dream it is that you could keep your place spotless without spending time and effort on it. Dream no more because Fabulously Clean will make it true! Keeping up with your chores won't be a problem anymore once you get our recurring cleaning services. Whether you need us to clean your place weekly, bi-weekly, or monthly, we'll always be ready!
Also, you won't have to spend time and money getting special tools and products time after time. We make sure our cleaners have the essential supplies to leave your place grime-free without a problem. Our cleaners are trained to clean every area in your home, from the usual spots to the most overlooked ones. Book with us, enjoy a healthier home, and relax!
Being the favorite cleaning company of Eagle's homeowners is the result of hard work. Check the amazing things our cleaners have achieved in many homes!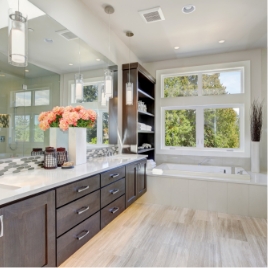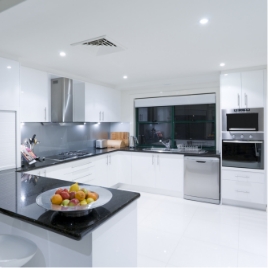 We can keep talking about our amazing services, or you can have a look at what the people of Eagle think about us!
Dec 30, 2022
Annaleece does a great job! I have 2 boys and 2 big dogs and I feel like coming home after she cleans the house is singing it's praises. Think sound of music style. I am a very happy client! In particular I think she has noticed that the kitchen and bathrooms are my least favorite to clean, she makes them sparkle. I appreciate her!
Dec 30, 2022
Monica is fantastic. We're glad she is assigned to our home. Very thorough and professional.
Dec 30, 2022
The house was well cleaned. It looked as if there was good attention to detail. I didn't notice anything unusual after cleaning. Great Job. Much appreciated! Many thanks, Ormond
Do you only need help to tackle your sticky floors or other simple cleaning tasks? We can still help you! Visit our blog to find useful tips about how to easily carry out common cleaning duties.
If you think about it, cleaning shower door tracks isn't really that hard. However, constantly skipping their maintenance contributes to mold, limescale, and other types […]
Read More
Ready To Book Your Service?
Fabulously Clean is always prepared to tackle your chores! Keep your home clean and recover your free time in just one call. Request a quote today!