House Cleaning Services in
Middleton, ID
Fabulously Clean provides high-quality cleaning services to every Middleton homeowner. Our services are customizable depending on our clients' specific needs, and we offer several packages for any occasion. Essential services include our deep cleaning and high-touch disinfecting, but you can also book move-in/out cleanings and top-to-bottom deluxe cleanings.
Discover Middleton, ID Neighborhood
Middleton is a city filled with history as it is one of the oldest settlements in Idaho. Parceled in 1863 by William N. Montgomery, the town got its name because of its location in the middle of the path between Old Fort's Boise and Keeney's Ferry. In 1880, Middleton had to be relocated north because of a flood.
The town went uneventfully until 1946, when the Black Canyon irrigation project rerouted water supply to 224,000 acres of land, which brought new growth opportunities. To this day, Middleton continues transitioning from an old town to a more modern-looking city. It has the right blend of green and small-town vibe with all its charming details.
Every homeowner in Boise, Idaho, deserves a clean and stress-free home. Fabulously Clean is a professional cleaning company specializing in residential services, providing a wide range of packages for all kinds of needs. Essential services like general deep cleaning are our bread and butter; however, we also offer high-touch disinfecting services, recurring cleanings, top-to-bottom deluxe cleaning, and move-in/out cleanings.
Spend time living in Middleton, ID
Though small, Middleton has its share of activities to enjoy. To start getting to know the city, the first place to go is Middleton Place Park, where you can use its various sports installations or peacefully wander through its outer path. You can go to the Lee Moberly Museum, which once was a power substation and now serves as a hold of Middleton history.
You can head to the northeast part of Middleton, where you will find the Macpaca Farms, a family farm specializing in raising alpacas. Apart from interacting with the animals, you can buy alpaca fiber items!
Seasonal activities are present too. The Haunted World is called "the scariest haunted house in Idaho" and opens from September until the end of October. If you want the thrill but don't want to wait, a few minutes from Middleton is Sky Down Skydiving; you can hop on a plane and experience the fun (whether first-timer or experienced) of skydiving!
Middleton, ID House Cleaning Done Right
We know letting someone else clean your home is a big deal; that's why we make sure our cleaning staff is as reliable and professional as possible. We perform thorough background checks and training for every new employee, not to mention we consistently review their performance. Besides, we offer a 100% satisfaction guarantee, meaning that if you're not happy with the results, we go back and make it right!
Why Choose Fabulously Clean House Cleaning?
Besides providing an excellent cleaning service to our clients, we also love to give back to the community. We hold food drives three times a year, and we are partnered with Cleaning For A Reason organization.

We give back to the community
Three times a year, we hold food drives during March, June, and September. We match the number of cans/items received (up to 5 cans per household) and give it The Interfaith Sanctuary.

Cleaning for a Reason Partnership
We have partnered with Cleaning for a Reason to provide FREE house cleaning service to women undergoing cancer treatment in the Treasure Valley Area.

We have high expectations
We provide detailed training to our staff so that they can meet the client and company standard of high quality, reliability, and great attitude.
We will return your calls
We believe open communication is the key to our success.

Consistent Quality Checks
We send out quality surveys to every client after every cleaning and review the responses daily.
Our staff are thoroughly vetted
We do background checks, drug testing, and employment verification.

Customized cleaning
Each home is different and a cookie cutter approach just won't work. We create the cleaning you need and that can fit most budgets.

Reliable and consistently thorough
The biggest thing I hear is they started out great but slowly started missing things. That is why we send out the Quality Surveys to each client.

100% Happiness Guarantee
Have you ever been satisfied with the outcome but not happy? We want to make sure that you are happy with every aspect of our service. If you are not completely HAPPY with the cleaning you receive, we will come back and re-clean it by the end of the day for free.
Our goal is to be proud of every home we clean. Check out some of our best work here.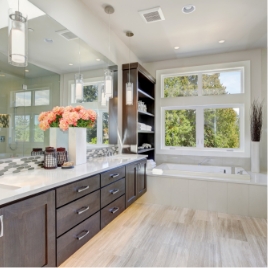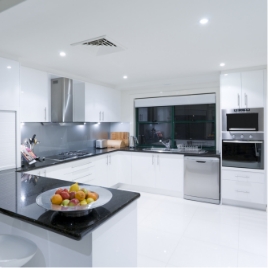 We always strive to obtain five-star reviews from our clients. We are proud of our incredible staff that always gives the best efforts.
Nov 14, 2022
We really appreciate Jill F, she has done an amazing job with our home. Happy with the attention to the little details, folded blankets on our couch, the notes left after our cleaning. Thank you Jill
Nov 14, 2022
Morgan and Alison were very through, efficient, and professional. My home was super clean when they finished cleaning. They listened to what I needed and why I needed it and set about to please me, which they certainly did!!
Nov 11, 2022
Jael did a marvelous job cleaning and my carpet lines were the best I've ever seen. She should teach everyone how to do that.
Cleaning houses for a living will definitely teach you many cleaning hacks and tricks. We want to share with you some helpful cleaning tips to make your life easier.
You may know that combining certain cleaners is bad. But are they really that dangerous? Here, you'll find five examples and their harmful effects on […]
Read More