House Cleaning Services In Garden City, ID
Fabulously Clean is ready to deliver quality house cleaning services to Garden City's homeowners! We offer a variety of services that we can adjust according to your unique needs and specifications. However, letting anybody in your house and touching your belongings is a big deal. That's why we extensively vet our cleaners, so you can be at ease!
We don't miss a single spot! All our cleaners clean your home based on a cleaning checklist covering more than 40 tasks. On top of that, all our hard-working cleaners will strive to meet your requirements and deliver outstanding results. We are confident you'll love our work; if you find yourself unsatisfied, let us know, and we'll come back to clean again at no cost!
Things To Do In Garden City, ID
Garden City is located between Boise and Eagle in the great Treasure Valley. Its name comes from the more than 600 acres of gardens that Chinese immigrants took care of in the early 20th century. Since its incorporation in 1967, Garden City has continuously grown from a tiny town to a remarkable destination. Lately, the city has experienced a delightful wave of new entertainment and cultural destinations, reshaping its identity from a simple pass-through spot to a bustling and exciting city that begs to be discovered.
Garden City is a haven for art and music enthusiasts. The Visual Arts Collective has an ever-changing array of contemporary artwork and cultural programs, providing incredible experiences for all. One of the more famous areas of Garden City is its Craft Beverage Corridor, boasting a variety of breweries, wineries, and cideries. It's a paradise for beverage enthusiasts to explore and savor unique flavors.
Adding to the city's charm is the Pollinator Garden. There you can learn about the importance of bees and butterflies. As part of the Bee City USA program, you can attend educational lectures and learn about these vital pollinators. Garden City proudly holds the distinction of being the first Bee City in Idaho! End your day with a visit to the beautiful riverside Riverside Hotel, where you can unwind with a stroll along the riverside promenade or enjoy a delightful meal at one of their acclaimed restaurants.
We mean serious business when talking about exceeding your expectations. Here are our top-of-the-line cleaning services!
Garden City, ID House Cleaning Done Right
You deserve the best house cleaning services and can count on us to deliver them! Our cleaners at Fabulously Clean are fully vetted, which means they'll clean your place with extreme care, so you can be at ease. Also, we train them thoroughly to tackle the grime in every room of your home, following the highest cleaning standards and using top-of-the-line supplies!
We'll leave your home cleaner than you've seen before by sticking to a cleaning checklist covering over 40 tasks. Nonetheless, we go beyond that! If you have any special request on tackling a task or a room, our cleaners will follow your instructions, striving to over-deliver and surprise you with top-quality results.
Why Choose Our House Cleaning Services?
Our amazing house cleaning services are just the start! We offer many benefits to our clients that other companies don't.

We give back to the community
Three times a year, we hold food drives during March, June, and September. We match the number of cans/items received (up to 5 cans per household) and give it The Interfaith Sanctuary.

Cleaning for a Reason Partnership
We have partnered with Cleaning for a Reason to provide FREE house cleaning service to women undergoing cancer treatment in the Treasure Valley Area.

We have high expectations
We provide detailed training to our staff so that they can meet the client and company standard of high quality, reliability, and great attitude.
We will return your calls
We believe open communication is the key to our success.

Consistent Quality Checks
We send out quality surveys to every client after every cleaning and review the responses daily.
Our staff are thoroughly vetted
We do background checks, drug testing, and employment verification.

Customized cleaning
Each home is different and a cookie cutter approach just won't work. We create the cleaning you need and that can fit most budgets.

Reliable and consistently thorough
The biggest thing I hear is they started out great but slowly started missing things. That is why we send out the Quality Surveys to each client.

100% Happiness Guarantee
Have you ever been satisfied with the outcome but not happy? We want to make sure that you are happy with every aspect of our service. If you are not completely HAPPY with the cleaning you receive, we will come back and re-clean it by the end of the day for free.
Recurring Cleaning Services In Garden City, ID
If you want to keep your home always clean without any effort or time involved, Fabulously Clean is your perfect choice! Get our recurring cleaning services, and let us tackle your cleaning chores. You can get our services on a weekly, bi-weekly, or monthly basis—just pick whatever frequency fits your home better!
Hiring our recurring services will save you time and free you from constantly re-stashing your cleaning storage, as we provide our cleaners with the necessary tools to remove the dirt. Besides, you'll have the dependability that only a professional cleaning team can give you. Hire us and enjoy a healthier home!
Once you see the incredible results our hard-working cleaners achieve, you'll book with us immediately!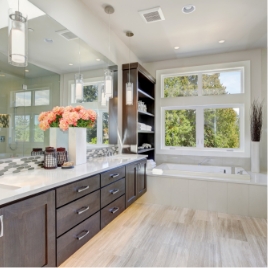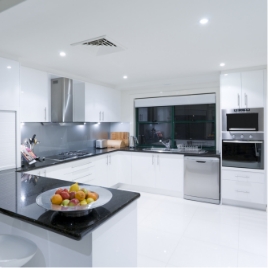 See for yourself what the people of Garden City are saying about our services!
Dec 30, 2022
Annaleece does a great job! I have 2 boys and 2 big dogs and I feel like coming home after she cleans the house is singing it's praises. Think sound of music style. I am a very happy client! In particular I think she has noticed that the kitchen and bathrooms are my least favorite to clean, she makes them sparkle. I appreciate her!
Dec 30, 2022
Monica is fantastic. We're glad she is assigned to our home. Very thorough and professional.
Dec 30, 2022
The house was well cleaned. It looked as if there was good attention to detail. I didn't notice anything unusual after cleaning. Great Job. Much appreciated! Many thanks, Ormond
It doesn't matter if you only need help with simple tasks; in our blog, you can find tricks and guides for everyday cleaning chores!
If you think about it, cleaning shower door tracks isn't really that hard. However, constantly skipping their maintenance contributes to mold, limescale, and other types […]
Read More
Ready To Book Your Service?
Nobody can solve your cleaning needs better than Fabulously Clean! Getting premium house cleaning services has never been easier. Request a quote now!