House Cleaning Services In Hidden Springs, ID
Homeowners in Hidden Springs have never seen such effective house cleaning services! Besides offering a wide array of cleaning packages, we let you customize them according to your unique needs to deliver outstanding results. We also care for your peace of mind, so we thoroughly vet every cleaner to perform their duties with utmost care and professionalism.
Thanks to our cleaners following an extensive cleaning checklist (comprising over 40 different chores), we can assure you your place will be thoroughly cleaned. To further ensure your place is spotless at the end of our visit, we adjust our cleaning services depending on your requests and specific needs. If for any reason you're unhappy with the outcome, we'll return and reclean your place for free!
Things To Do In Hidden Springs, ID
In the mid-1990s, Hidden Springs emerged as a master-planned city in Idaho that exudes youthfulness. This lively city occupies over 1,800 acres of land in Dry Creek Valley, north of the striking Treasure Valley, and was erected on a historic farm that was 130 years old. Today, Hidden Springs keeps extensive green spaces, unique homes, and walkable streets, all while upholding its surroundings' natural charm.
Despite its youthful status, this charming city already offers a plethora of fantastic locales for visitors to revel in. The Red Tail Trail, part of the original Open Space plan for the city, boasts a network of picturesque trails that winds through lush forests. Another great option showcasing the area's beauty is the Bogus Basin. In summer, brace yourself for a breathtaking mountain bike ride, while winter offers cool skiing and snowboarding opportunities.
Don't miss the Hidden Springs Community Barn! A historic landmark that serves as a gathering place for community events and showcases the rustic beauty of the area's agricultural roots. After a whole day of thrilling adventures, you can enjoy a delicious meal in the Springhouse At The Merc. Feel like home with its cozy atmosphere and overwhelming hospitality.
Whatever your cleaning needs, we got you covered! Take a look at our outstanding cleaning services.
Hidden Springs, ID House Cleaning Done Right
Nobody can provide house cleaning services in Hidden Springs with outstanding quality like Fabulously Clean! Our cleaners will take over your chores with utmost care and respect because they are vetted before joining our team. On top of that, you can expect them to clean your place using the best techniques due to their thorough training.
Don't worry about us only doing superficial work! Our professional cleaners follow an extensive (over 40 tasks) cleaning checklist to ensure every corner in your place is dirt-free. However, if you want us to tackle some task or room in a specific way, let us know, and our hard-working cleaners will take care of the rest. The final result will leave you speechless!
Why Choose Our House Cleaning Services?
We like to surprise our clients with more than outstanding cleaning services. Here are the extra benefits you can enjoy once you book with us!

We give back to the community
Three times a year, we hold food drives during March, June, and September. We match the number of cans/items received (up to 5 cans per household) and give it The Interfaith Sanctuary.

Cleaning for a Reason Partnership
We have partnered with Cleaning for a Reason to provide FREE house cleaning service to women undergoing cancer treatment in the Treasure Valley Area.

We have high expectations
We provide detailed training to our staff so that they can meet the client and company standard of high quality, reliability, and great attitude.
We will return your calls
We believe open communication is the key to our success.

Consistent Quality Checks
We send out quality surveys to every client after every cleaning and review the responses daily.
Our staff are thoroughly vetted
We do background checks, drug testing, and employment verification.

Customized cleaning
Each home is different and a cookie cutter approach just won't work. We create the cleaning you need and that can fit most budgets.

Reliable and consistently thorough
The biggest thing I hear is they started out great but slowly started missing things. That is why we send out the Quality Surveys to each client.

100% Happiness Guarantee
Have you ever been satisfied with the outcome but not happy? We want to make sure that you are happy with every aspect of our service. If you are not completely HAPPY with the cleaning you receive, we will come back and re-clean it by the end of the day for free.
Recurring Cleaning Services In Hidden Springs, ID
Maintaining your home's good looks is not an easy feat. That's why Fabulously Clean offers recurring cleaning services for all homeowners in Hidden Springs! It doesn't matter how often your home needs cleaning; you can pick between our weekly, bi-weekly, or monthly packages as you see fit.
When you hire our recurring cleaning services, you get more than just free time. You won't have to worry about buying cleaning supplies as often because we equip our cleaners with everything necessary to tackle your chores effectively. On top of that, you'll feel at ease knowing professionals are taking over your cleaning duties!
Hold tight to your seat because our cleaners' excellent work will knock your socks off!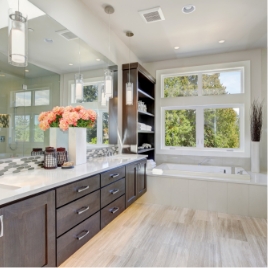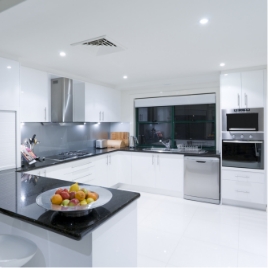 Need more proof of our amazing services? Here you can read the kind words the people of Hidden Springs are sharing!
Dec 30, 2022
Annaleece does a great job! I have 2 boys and 2 big dogs and I feel like coming home after she cleans the house is singing it's praises. Think sound of music style. I am a very happy client! In particular I think she has noticed that the kitchen and bathrooms are my least favorite to clean, she makes them sparkle. I appreciate her!
Dec 30, 2022
Monica is fantastic. We're glad she is assigned to our home. Very thorough and professional.
Dec 30, 2022
The house was well cleaned. It looked as if there was good attention to detail. I didn't notice anything unusual after cleaning. Great Job. Much appreciated! Many thanks, Ormond
Many years in the cleaning industry have taught us lots of secrets. It's time we share them with you to make your daily chores easier!
If you think about it, cleaning shower door tracks isn't really that hard. However, constantly skipping their maintenance contributes to mold, limescale, and other types […]
Read More
Ready To Book Your Service?
Tired of struggling to look for time to clean your home? Fabulously Clean is the solution you're looking for! Get our cleaning services right now.