House Cleaning Services In Nampa, ID
Attention Nampa homeowners! Prepare to be amazed by exceptional house cleaning services. At Fabulously Clean, our dedicated team ensures to provide packages that can be adjusted to your individual needs and preferences. We understand the importance of trust when inviting someone into your home and handling your cherished belongings. That's why we take extra measures to carefully select and vet our cleaners, ensuring your peace of mind.
No corner of your home will go untouched when it comes to cleanliness! Our meticulous cleaners follow a comprehensive cleaning checklist, ensuring every nook and cranny receives the attention it deserves. Furthermore, our hardworking team is determined to meet your specific requirements and surpass your expectations with outstanding results. If you're not happy with the outcome, we'll happily return and re-clean at no additional cost!
Things To Do In Nampa, ID
Nampa is now a busy city, but it started in 1883 as another post along the Oregon Line railroads. The city built its structure by relying on its agricultural roots, gaining importance in the farming industry. To this day, many industries have found their place in the city. However, agriculture still is key to Nampa's economy and identity. The dedication of the first settlers has given Nampa a rich heritage and paved the way to a brighter tomorrow.
Nampa is an absolute joy to experience, thanks to its abundance of relaxing and enjoyable activities. Begin your day with a visit to the Warhawk Air Museum, where you can explore an impressive collection of historic aircraft and learn about the courageous stories of veterans. For a nature-filled adventure, head to Lake Lowell, a breathtaking reservoir with stunning landscapes perfect for boating, fishing, and wildlife watching.
Discover the charm of downtown Nampa, with its quaint shops, delightful eateries, and the historic Nampa Train Depot. This beloved landmark showcases the city's railroad heritage. Complete your visit with a trip to the Deer Flat National Wildlife Refuge, a haven for bird enthusiasts with its diverse population of birds and tranquil hiking trails, allowing you to connect with nature in a serene setting.
We always strive to meet and exceed your cleaning expectations. Find out how we can leave your spaces spotless!
Nampa, ID House Cleaning Done Right
You deserve nothing less than exceptional house cleaning services, which we provide at Fabulously Clean! Our team of expert cleaners undergoes a rigorous hiring process, ensuring that only trustworthy, vetted professionals handle your spaces with the utmost care, giving you complete peace of mind. We also provide detailed training, so they will easily tackle dirt and grime in every corner of your home. Besides, our cleaners adhere to the highest cleaning standards and use professional-grade supplies.
We follow a meticulous cleaning checklist (over 40 different tasks) to surpass your expectations, leaving your home impeccably clean like never before. However, we don't stop there! We value your preferences and your specific instructions for certain tasks or rooms. Our cleaners are dedicated to going above and beyond, striving to exceed your expectations and surprising you with exceptional, top-quality results.
Why Choose Our House Cleaning Services?
We provide more than exceptional house cleaning services. You'll love the wide array of exclusive benefits that set us apart from other companies.

We give back to the community
Three times a year, we hold food drives during March, June, and September. We match the number of cans/items received (up to 5 cans per household) and give it The Interfaith Sanctuary.

Cleaning for a Reason Partnership
We have partnered with Cleaning for a Reason to provide FREE house cleaning service to women undergoing cancer treatment in the Treasure Valley Area.

We have high expectations
We provide detailed training to our staff so that they can meet the client and company standard of high quality, reliability, and great attitude.
We will return your calls
We believe open communication is the key to our success.

Consistent Quality Checks
We send out quality surveys to every client after every cleaning and review the responses daily.
Our staff are thoroughly vetted
We do background checks, drug testing, and employment verification.

Customized cleaning
Each home is different and a cookie cutter approach just won't work. We create the cleaning you need and that can fit most budgets.

Reliable and consistently thorough
The biggest thing I hear is they started out great but slowly started missing things. That is why we send out the Quality Surveys to each client.

100% Happiness Guarantee
Have you ever been satisfied with the outcome but not happy? We want to make sure that you are happy with every aspect of our service. If you are not completely HAPPY with the cleaning you receive, we will come back and re-clean it by the end of the day for free.
Recurring Cleaning Services In Nampa, ID
Looking for a hassle-free way to maintain a spotless home without investing your precious time and effort? Look no further than Fabulously Clean! We offer top-notch recurring cleaning services tailored to your needs. We'll keep your home pristine on a weekly, bi-weekly, or monthly basis!
By choosing our recurring services, you can say goodbye to the burden of constantly restocking your cleaning supplies. Our dedicated cleaners have all the tools to remove dirt and grime from your living spaces. Plus, thanks to our professional cleaning team, you can count on reliable and trustworthy service. Say hello to a healthier home environment by entrusting us with your cleaning needs.
You won't believe the amazing transformations our dedicated cleaners can achieve until you witness it firsthand! Our exceptional results will have you booking our services in an instant.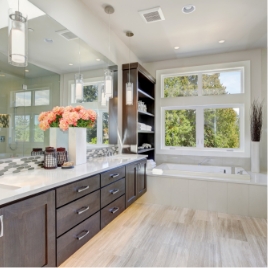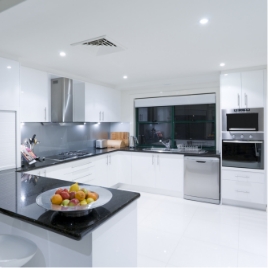 Come and discover the buzz surrounding our services in Nampa! See firsthand what the locals are raving about.
Whether you're faced with a tiny tidying task or a challenging cleaning endeavor, you can check our blog for trustworthy cleaning guidance.
If you think about it, cleaning shower door tracks isn't really that hard. However, constantly skipping their maintenance contributes to mold, limescale, and other types […]
Read More
Ready To Book Your Service?
When it comes to meeting your cleaning needs, nobody does it better than Fabulously Clean! Experience the ease of booking premium house cleaning services with us. Don't wait any longer - request your quote now!